I've been making these low carb burrito bowls once a week lately. They are so good and SO easy! I kind of cheat with the pre-packaged chicken and peppers but you could easily whip up some chicken in a skillet in the same amount of time. Keep reading for the full recipe!
Low Carb Burrito Bowl
Burrito Bowl made with cauliflower rice.
Makes: 2-3 Servings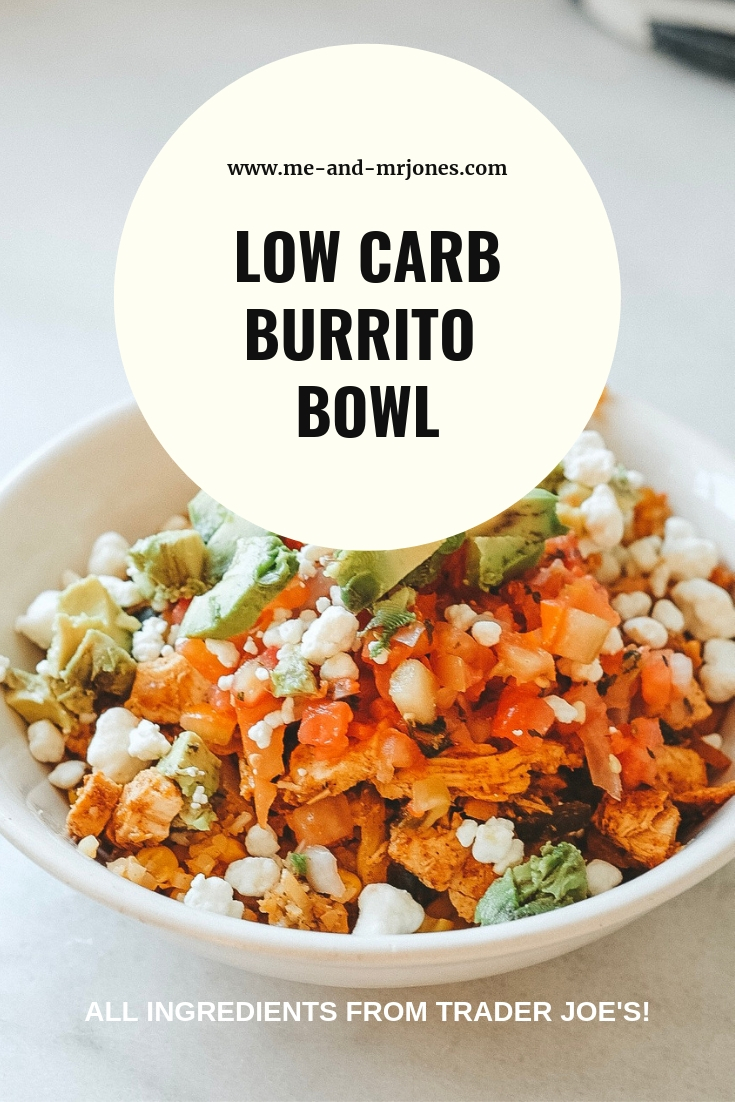 Prep time:
Cook time:
Ingredients:
Trader Joe's Grilled Chicken Fajitas
2 bags of Trader Joe's Cauliflower Rice
1/2 bag Trader Joe's Mexican Style Roasted Corn
Goat Cheese
Trader Joe's Chili Lime Seasoning
Trader Joe's Mild Pico De Gallo Salsa
Olive Oil
Cooking Spray
Instructions:
Preheat large skillet at medium-low heat for califlower rice.
Preheat a small skillet at low heat for grilled chicken fajitas.
Pour enough olive oil in the large skillet to coat the surface. Pour in 1 1/2 bags of cauliflower rice and season with Chili Lime seasoning.
Add 1/2 bag of Mexican Style Roasted Corn into the same skillet. Stir frequently until cooked through. Approximately 15 minutes.
While cauliflower rice is cooking, spray the smaller skillet with cooking spray and add the Grilled Fajitas.
Using a spatula, chop the grilled chicken pieces. This makes the fajitas easier to portion out after they are heated.
After everything is cooked, layer cauliflower rice mixture, chicken fajitas, cheese, and salsa. Add guacamole or avacado for an even more delicious bowl!.
Other add-ins I've tried before are a squeeze of lime and sometimes Skyler and I will add a teeny bit of sour cream (or Greek yogurt for a healthier option)! I can't stop thinking about this bowl now so I'm definitely going to make it for dinner tonight! You can also do shredded Mexican cheese instead of goat cheese but I LOVE goat cheese and think it is the perfect addition to this bowl! If you try it, tag me (@meandmr.jones) on your Instagram stories and let me know if you love it too!
Xo,
Haley